Dumb and Dumber is back! It's been nearly 20 years since the hilarious film first hit our screens and a few weeks back Jim Carrey and Jeff Daniel posted the first pics from the set of the currently-in-production sequel Dumb And Dumber To (no typo) on Twitter. Then, over the weekend, news got even more exciting with the report that Jennifer Lawrence is set to make a cameo in the film!
J-Law is a massive fan of the original film as you can see from the clip above where she quotes Jim Carrey to Jimmy Fallon. The report goes that she's set to play a younger version of Kathleen Turner's character Fraida Felcher who super fans will remember as the, "babe who worked for the tractor company" that Harry and Lloyd both fell in love with before the film took place. What does this mean for J-Law? If the new film's as chaotic as the first, then anything could happen but here's 5 things we're totally hoping for.
1. Slapstick LOLs
J-Law's the Queen of Clumsy as her fall at the Oscars, dress malfunction at the SAG Awards, and tripping over her wayward shoe at the BAFTAs proved. Luckily, the Dumb and Dumber set is probably the best place in the world for the hilarious mishaps she seems destined to suffer. Walking into a garden rake? Slipping on a banana skin? Falling backwards into a pirahna-filled pond? We're not ruling anything out.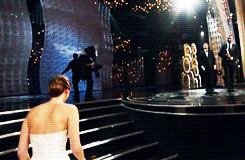 2. A Jim Carrey/J-Law Snog
Considering Fraida Felcher totally got off with Lloyd back in the day, we're guessing a rehash of that (undeniably disturbing) memory is on the cards. If Lloyd's kiss with Mary Swanson in the original film is anything to go by, we're holding out for some seriously vomit-inducing love scenes between the two. Good luck Jen (you're going to need it).
3. Totally Great Jennifer Lawrence One Liners
Dumb and Dumber is full of one-liners - ("So you're saying there's a chance!") - luckily, as Hollywood's resident funny lady - so is J-Law...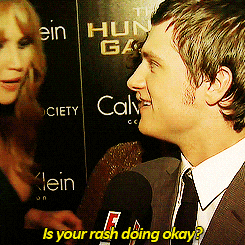 4. Super Cool Amazing Fashion
From Lloyd and Harry's super chic haircuts, to their awesome evening wear, to Harry's totally rad ski suit, we're guessing a polo neck and Christmas jumper for Jennifer isn't too far out of the question. Especially as she's already shown herself to be up for some pretty out there fashion.
Jeff Daniels Twitter
5. Jennifer Lawrence Totally Geeking Out And Generally Having A Freakin' Great Time