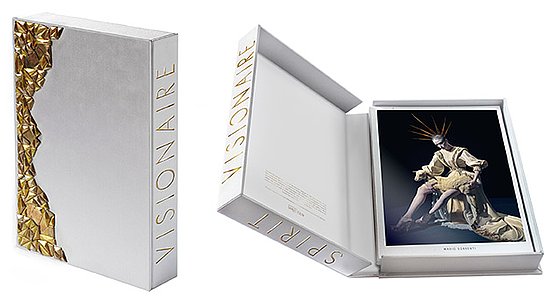 In today's edition of the Grazia Daily Book Club we want to talk about Alexander McQueen. First up, news reaches us today that makers of ultra posh magazine/book series VISIONAIRE have published a hefty tribute to the London designer.

The tome, Visionaire 58 Spirit: A Tribute to Lee Alexander McQueen includes contributions from all the luminaries you would expect; Nick Knight, Inez Van Lamsweerde and Vinoodh Matadin, Steven Klein, Mario Testino and, errrr Lady Gaga, and comes wrapped in a box with luxurious metalized brocade, the same as that used in his posthumous A/W '10 collection, Angels and Demons. AND if you think that didn't justify the price tag of just under £200, then ponder this; the pages are embedded with wildflower seeds, so that, if you look after it, the book will bloom into the most decadent window box ever. (!) *
If you are more in the market for a few more words for a few less pence, then we're more than happy to point you in the direction of the wonderful Alexander McQueen: Genius of a Generation written by Kristin Knox, also known as The Clothes Whisperer, and one of our very favourite fashion bloggers. This is a book which focuses on the intense skill and artistry of the designer's masterpieces, collection by collection, unpicking his influences and inspirations with the help of top fashion names. A copy will be firmly tucked in Grazia Daily's suitcase come holiday time.

SO if you're fashion book shopping in either a long term-relationship or holiday romance way, we can satisfy your cravings. OR you could buy them both.

*We're not sure that you really WOULD want to cover your new three figure limited edition photographic coffee table book in water and Baby Bio then watch it briefly bloom before it decays into mulch . . . but we can appreciate the concept.
- Naomi Attwood