Way to make us feel bad, Jen. The 44-year old has balked at the idea of a Big Mac, saying she had one once and isn't keen to go back there any time soon.
The actress told New York Magazine, "I'll never forget when Justin and I were on a road trip and we were so hungry. The only thing around was McDonald's. I think I ordered a Big Mac. Wow, my body did not react well to that! It was like putting gasoline in a purified system. I am always trying to eat organic and natural foods, so that just made my stomach turn and made me feel terrible. And I think what you put in your body, as well as stress, is reflected in the quality of your skin."
Yes alright, she's probably right but here in normal land we're not actually that bothered. Have you got time to analyse every morsel of grub that passes your lips? Us either. Plus where's the fun in going for a dirty burger with your mates if you're going to order a side salad? Or sit on your hands at a BBQ to stop you from chowing down on hotdogs? Don't get us wrong, we advocate a balanced diet and don't advise eating non-stop-junk-food, but sometimes there's nothing better than gorging on a big fat pizza.
Basically, we're not giving up junk food and here's why. Stick that in your bulgar wheat salad...
1. Because Our Body Is Anything But A 'Purified System'
An unhealthy obsession with cocktail sausages sorted that a looong time ago.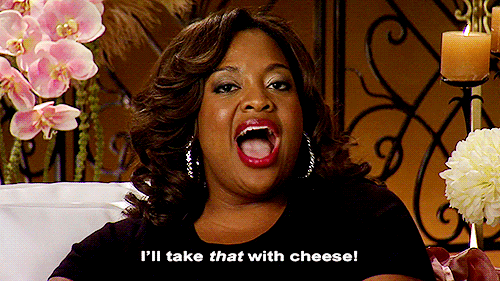 2. Because It's 2AM And The Salad Shop Is Closed
McDonalds is open though...
3. Because Lentils Aren't Going To Nourish Us In The Same Way As Ice Cream
Especially the day after a break-up.
4. Because It's The Day Before Payday And Tesco Noodles Are 20p
And brown rice costs one whole pound.
5. Because Scientists Have Worked Out That We Actually Can't Help It
Processed carbohydrates trigger the area of your brain associated with cravings and rewards. Ergo: NOT YOUR FAULT.
6. Because Morning Muesli Isn't Going To Fix Last Night's Wine
Whereas a fried breakfast might scratch the surface.
7. Because Sometimes Natural Food Can Be TOO Natural
8. Because We've Just Found Out That A McDonalds Hamburger Has Less Calories Than An Egg And Cress Sandwich
And we know which one we'd rather eat.
9. Because J-Law Loves Pizza
And in the battle of the Jens, which one seems more fun?
10. BECAUSE IT TASTES SO MUCH GOSH DARN BETTER