Unexpected heartthrob Tom Hiddleston had a red-carpet dance-off with his Thor: The Dark World co-star Zachary Levi last night after Zachary totally said he was a better dancer than Tom. Zachary might not have actually said this at all, instead it might have been a clever ruse that the interviewer dreamed up to get both stars shaking their bad things on her interview time. Either way, it worked and the two displayed some super-stellar shape-throwing skills.
The interviewer declares the dance-off a tie, but we're not so sure - in our opinion Tom had the slight edge over Zachary for true commitment to Sparkle Motion.
Here's the 5 other best film dance-offs. Oh, and watch out for the terrifying laugh of the interviewer in the video above at 1:04. Sister sounds like she's swallowed a hyena.
1. Channing Tatum And Jenna Dewan Tatum In Step Up
Not technically a dance-off, instead this display of athletic ability can more accurately be termed a dance show off, but any excuse to see Channing shaking his manly bits is fine by us. Also - this is the film where he met Jenna Dewan, who is now his Channing Wife and mother of his Channing daughter Everly. They also might be the best looking couple ever.
2. Uma Thurman And John Travolta In Pulp Fiction
Vincent Vega and Mia Wallace wow the patrons of Jack Rabbit Slim's Diner with their seriously unenthused 'twist-off'. Top marks for stockinged feet to maintain maximum twisting abilities.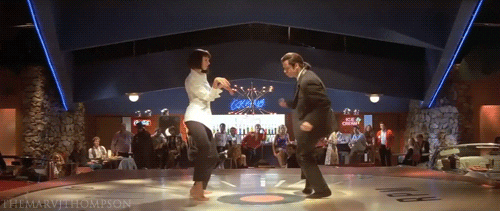 3. The Sharks And The Jets In West Side Story
In what might be the least-threatening gang war ever, the Puerto Rican Jets and the Polish-American Sharks leap, bound and pirouette their way through a potentially deadly street battle (if you can find it in your heart to class overenthusiastic stage punches as 'deadly') before being sent on their way by the long-suffering Officer Krupke.

4. Sarah Jessica Parker And A Random Hot Guy In Girls Just Wanna Have Fun
If your childhood was cruel to you and meant you somehow missed out on this stellar start to Sarah Jessica Parker's career, it's not too late to catch up now. Basically, SJP is the good Catholic schoolgirl with the strict father who wants nothing more than to be a dancer on Dance TV, a telly show centered around - unsurprisingly - dance. A nationwide competition to star on Dance TV inevitably ends with a dance-off full of perms and fist pumps and starts at 2:13 on the video below. But for your own good, watch the whole thing. Trust us. It's worth it.
5. Britney Spears And Mike Myers In Austin Powers In Goldmember
No-one takes on early-noughties Britney at dancing. Girl had the body pops and pivots down. But wait, this isn't Britney! It's an imposter Britney-Bot with bazooka boobs! Duck!