Just in case you've been living under a rock for the last few months, the world's biggest boyband One Direction are just about to release a film. This Is Us, out in a mere 10 days time (Squeal!) is a bit Katy Perry Part of Me, a bit Justin Bieber Never Say Never and a lot of fun.
Following the boys as they tour the world, are faced with mad fans and visit their families at home This Is Us is an insight into the boys' life that fans haven't ever experienced before, and this morning, they held a press conference to talk about it. We went along (purely for professional reasons yeah?) and here's what we found out...
1. The Film Is Boyfriend Friendly (Sort Of)
Fresh out of ideas for how to get your boyfriend to accompany you to the cinema? Niall promised us there's bits in the film that'll pique your partner's interest too. "Tell them we play loads of football in the film. Cos we're lads. Also, I drink a bit of beer."
2. The Boys Are Shocked And Appalled By The Suggestion They Like To Party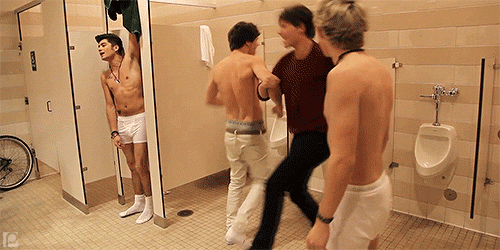 When asked about how into sex, drugs and rock n' roll the band are, they all gasped. "This is a family press conference," Harry chastised the enquiring journalist. "I think we'd like to think we're rock n' roll but we're not," said Louis.
3. Simon Cowell And Niall Are Tight
The boys were asked how they felt that Simon Cowell recently implied that Niall is the music mogul's favourite 1 Directioner. Whilst Louis looked mock-downcast and admitted, "There's definitely jealousy there." Niall came right out and proudly announced, "Simon Cowell is my homie." Quite.
4. Boy Directioners Are A Growing Fad
According to director Morgan Spurlock, (yes that Morgan Spurlock - of Super Size Me fame) 1 in 8 of the crowd at the gig in Mexico City were male. Let's hear it for the boys!
5. The Boys Are Friends Outside Of The Band Too
According to Niall, the boys miss each other when they're not together and, "See each other a lot during out time off." Apparently Louis comes back with the best stories. Oh DO share with the group Louis!
BONUS THING: They Are All Actually RIDICULOUSLY Good Looking In Real Life
But we managed to contain ourselves. Impressed?