Ever felt like you needed to see more of Miley Cyrus? You know, that shy, retiring wallflower whose public appearances are few and far between and always conducted in appropriate clothing? Do you realise that only 5 short weeks ago the world was blissfully unaware of what Miley Cyrus looked like in a beige latex bikini twerking next to a middle-aged pop star singing questionable lyrics? It was a simpler time.
Anyways, Miley: The Movement (because in the same vein as Lady Gaga, Miley has ceased to be *just* a popstar and is now more of an artistic concept) airs tonight in the US on MTV. As far as we can tell, the documentary follows the star in her everyday life in the weeks leading up to her VMAs performance with unprecedented access to the inner workings of the pop star's machine.
Here's what we're hoping for from Miley: The Movement
1. Some Pearls Of Wisdom From Britters
The Britney Spears is in the documentary guys. The trailer shows Britters chuckling as Miley says she wants to use her VMA performance to shoot hot dog guns. We're not sure what a 'hot dog gun' is - although a quick Google has brought up this guy. Does it shoot out hot dogs? Doesn't seem massively hygienic. Anyway, we digress. Britney Spears is potentially the only popstar who's 'growing up' phase has been as dramatic as Miley's. Hopefully Britney will pass her words of wisdom onto Miley in the hope that Miley too can net herself a two-year residency in Vegas alongside, erm, Celine Dion.
2. An Explanation For These Naughty Things
Smoking in a music video, riding a giant wrecking ball naked, writhing around on a bed wearing white leggings (they might be the worst thing of all), Miley's transformation from Disney kid to raunchy pop star has been a bit 'in yer face' to say the least. What's the deal Miley? Let's talk it out.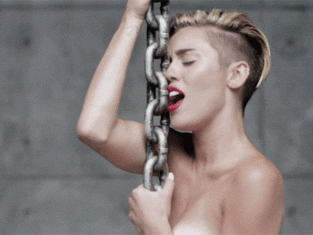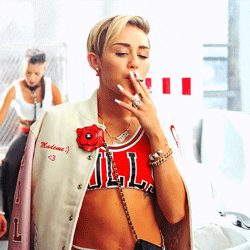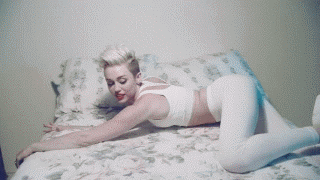 3. What Happened To The Foam Finger

No-one even considered how Miley's foam finger felt during Twerk-gate until one Steve Chmelar, the icon's inventor, came to it's defense. "'I would say that it certainly misrepresented its intent to encourage team support." Chmelar lamented,"She took an honorable icon that is seen in sporting venues everywhere and degraded it." So where is said foam finger now? Is it residing at the bottom Miley's cavernous wardrobe under a pile of latex and leather? Or has some kind soul taken it in to a loving home where, with a bit of care and attention, it'll be ready to rejoin it's natural habitat at a future basketball game? We hope the latter. #Hangintherebuddy.
4. What's Going On With The Tongue?
It's very, very long isn't it? Can she touch her nose with it? We can. Our nose we mean, not hers, that would be weird. With the length of the thing we're almost certain it's Miley's main styling tool for coiffing that super-cool barnett of hers. Hair gel? Nah, you'll be alright, a quick lick and she's quiffed right up.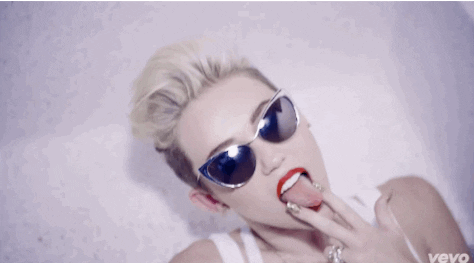 5. If This Whole Miley Revamp Is An Elaborate Example Of Life Imitating Art?
We were a bit too old for this Hannah Montana business but from what we understand, Miley played erm, Miley, who was a normal wholesome teenager by day and super-famous popstar Hannah Montana by night. Is there a long-haired, fully-clothed Miley out there somewhere in the real world working in a coffee shop and living in a run-down apartment ready to change into a barely-there leotard and peform for screaming teenagers at a moment's notice? God that would be good wouldn't it?